Pocket Neighborhood receives NADO Impact Award
---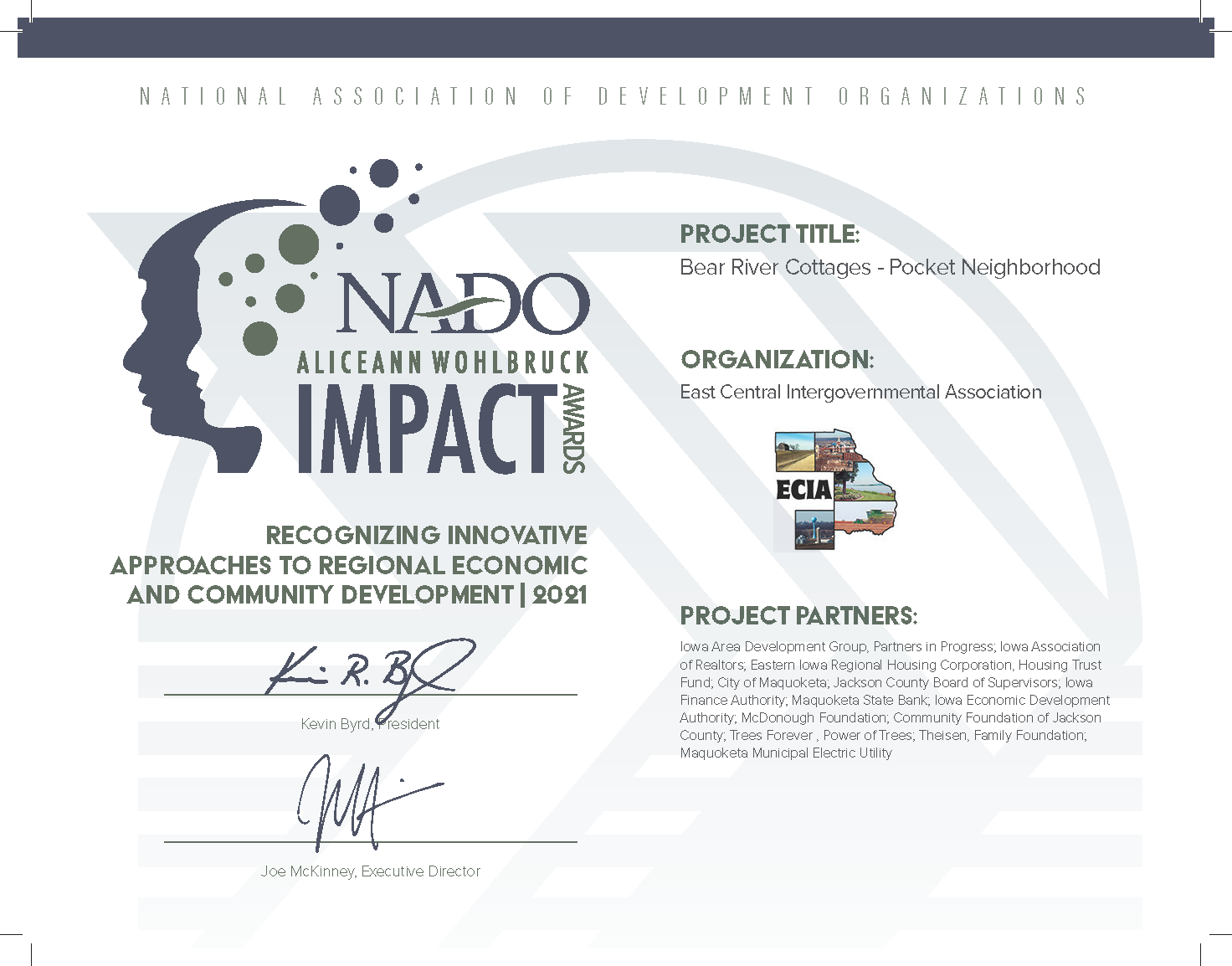 Contact: Joe McKinney For Immediate Release
NADO Executive Director October 25, 2021

202.921.4441 | jmckinney@nado.org


East Central Intergovernmental Association (ECIA) Receives
National Association of Development Organizations 2021 Impact Award
WASHINGTON, DC – ECIA, based in Dubuque, Iowa has received a 2021 Aliceann Wohlbruck Impact Award from the National Association of Development Organizations (NADO) for the Bear River Cottages – Pocket Neighborhood, Maquoketa, Iowa.
The Bear River Cottages are Maquoketa's new affordable Pocket Neighborhood housing development. These ten homes were developed by ECIA's non-profit arm, East Central Development Corporation (ECDC), providing an affordable option for income-qualified home buyers at or below 80% of the County Median Income to have an opportunity to own a newly constructed 2 or 3 bedroom/2-bathroom single-family home. The Pocket Neighborhood is a planned community consisting of smaller residences designed to promote a close-knit sense of community, increased sense of ownership, and to incorporate sustainability and green building concepts around common amenities such as a courtyard area and gazebo. This community is the first of its kind in Eastern Iowa. The development broke ground in the fall of 2019 and all ten homes are sold.
NADO is a Washington, DC-based membership association of regional development organizations that promote programs and policies that strengthen local governments, communities, and economies through regional cooperation, program delivery, and comprehensive strategies. The association's Impact Awards program recognizes regional development organizations and their partners for improving the economic and community competitiveness of our nation's regions and local communities.
Award-winning projects were recognized during NADO's 2021 Annual Training Conference, held in Portland, OR on October 16-19. The 2021 class of award recipients consists of 102 projects from 70 organizations spanning 24 states. These projects are presented in an interactive "Story Map" developed by NADO that includes project summaries, partners, and images. The Story Map is available online at: https://www.nado.org/2021_impactawards/
"During the past 20 months, regional development organizations across the country have shown just how valuable they are in supporting the local communities they serve," said 2019-2021 NADO President Kevin Byrd, executive director of the New River Valley Regional Commission, located in Radford, VA. "From COVID-19 response and recovery initiatives, to workforce and economic development projects, to social services programs and much more, the 2021 NADO Impact Awardees highlight the many ways our members work on the ground every day to improve quality of life in their regions."
The NADO Impact Awards are presented in honor of the late Aliceann Wohlbruck who was NADO's first executive director and served 24 years as a tireless champion for regional approaches to economic development in rural communities.

For more information about this award-winning project, contact Kelley Deutmeyer, ECIA Executive Director, at 563-556-4166.
Since 1967 the National Association of Development Organizations (NADO) has provided advocacy, education, networking, and research for the national network of 540 regional development organizations. NADO members provide professional, programmatic, and technical assistance to over 2,300 counties and 15,000 municipalities.